Monday, August 27, 2012
New Edition of Lynda Barry's: The Freddie Stories
The Freddie Stories
Lynda Barry
IN STORES NOVEMBER 2012
THE TRIALS AND TRIBULATIONS OF TROUBLED ADOLESCENTS FROM BARRY'S ACCLAIMED COMIC
The Freddie Stories traces a year in the life of Freddie, the youngest member of the dysfunctional Mullen family. These four-panel entries–each representing an episode in the life of Freddie–bring to life adolescence, pimples and all. No matter what happens, it all seems to go wrong for Freddie–he's set up as an arsonist, mercilessly teased in school, and bossed around by classmates. With consummate skill, Lynda Barry writes about the cruelty of children at this most vulnerable age when the friends they make and the paths they choose can forever change their lives. In The Freddie Stories every word of dialogue, every piece of narration, and every dark line evokes adolescent angst.
These short, moving stories are collected from Barry's beloved Ernie Pook's Comeek, which was serialized across North America for two decades. Re-packaged here with a brand-new introduction from Lynda Barry, The Freddie Stories is an adult tale about just how hard it is to be a teenager–a classic Barry work alongside her cult masterpiece novel Cruddy–poignant, insightful, and true.
Hardcover, 8.375" x 10.875", Full-Color
ISBN: 9781770460904
$19.95 US / $19.95 CDN
Friday, August 10, 2012
Lynda Barry Original Art on Etsy!
Lynda Barry has an Etsy store! All kinds of original art for sale!
http://www.etsy.com/shop/LyndaBarryArt
Tuesday, November 8, 2011
Sympathy for the Mummy: Halloween Fiction (?)
Lynda Barry has a short story at Salon.com for Halloween:
"It's the mid-1800s, and a Croatian guy goes to Egypt on vacation and buys a mummy as a souvenir. So you can already tell what kind of guy he is. The mummy turns out to be wrapped in strips made from a book handwritten on linen in Etruscan, a language that died out 2,000 years ago ..."
Read the full story here.
Friday, October 28, 2011
"Lynda Barry Will Make You Believe In Yourself"
The New York Times has an article on Lynda Barry's writing course "The Lynda Barry School for Drawing Spirals, Confronting Demons, Learning to Sing, Being Terrified and Maybe Becominga Capital-W Writer."
Read the full article
here
.
Thursday, September 1, 2011
The Complete Lynda Barry: Volume 1
Drawn and Quarterly have a
preview of the advances of Lynda Barry's upcoming Blabber, Blabber, Blabber
, a book that collects some of her earliest comics, including the early Ernie Pook's Comeek, Girls and Boys and Two Sisters, and features newly written introductions for each section.
It looks incredible!!
Tuesday, August 23, 2011
Lynda Barry Residency @ The University of Wisconsin!
Just in from
The Near-Sighted Monkey on tumblr
.
During Spring Semester of 2012, Lynda Barry will be the University of Wisconsin's Artist in Residence on the Madison campus. She'll be teaching a writing and picture-making class called, "What It Is: Manually Shifting the Image" which will meet twice a week.
The class will be open to both graduate and undergraduate students from all academic disciplines. No artistic talent is required to be part of this class, but students should have an interest in memory, images, how the brain works, and what the biological function of the thing we call 'the arts' may be.
To find out more visit:
The University of Wisconsin's page
Saturday, June 4, 2011
Nicole Rudick interviews Lynda Barry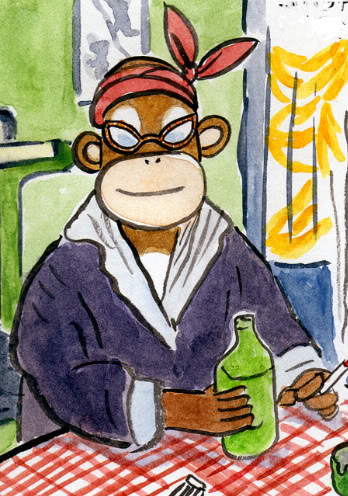 Nicole Rudick interviews Lynda Barry:
Part 1
: art, writing, and cigarettes.
Part 2
: the glory of Drawn & Quarterly, gaps in comics history, and Lynda's giant crush on Charles Burns.
Subscribe to Posts [Atom]